Hand & Wrist Pain Chelmsford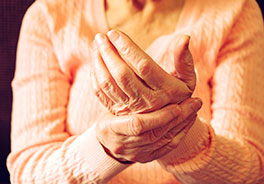 The Hand & Wrist
Your wrist comprises eight small bones which join with the two long bones of the forearm – the radius and ulnar. The fingers comprise one long bone in the hand (metacarpal) and three smaller bones in the fingers themselves (phalanges). The thumb has one metacarpal and two phalanges. The bones are bound by ligaments and surrounded by muscles, tendons, joint capsules, blood vessels and nerves.
Possible Causes of Hand & Wrist Pain:
Tendonitis eg De Quervain's Tenosynovitis
Ligament sprains
Carpal Tunnel Syndrome
Arthritis including osteoarthritis and rheumatoid arthritis
Peripheral neuropathy
Nerve root pain from the neck referring to the hand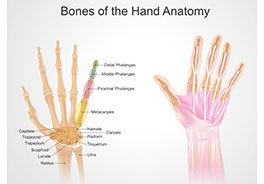 How can osteopathy help?
At Oaklea Osteopathy in Chelmsford, experienced osteopath Amanda Miles will assess you fully by taking a detailed case history and examining you to rule out other causes of pain that may refer to the hand and wrist. Treatment will depend on your diagnosis and other factors such as age, general health and fitness. Treatment is carefully chosen to reduce pain, improve mobility, improve function and improve strength.
If Amanda thinks gentle stretches and exercises will help you, you will be provided with an individually tailored exercise programme.
Occasionally, there may be a need to refer you back to your GP if Amanda thinks you may benefit from further investigation or tests. This will always be discussed with you first if this is necessary.
Useful Links
NHS Hand Pain
NHS - Hand Pain Information