About Amanda Miles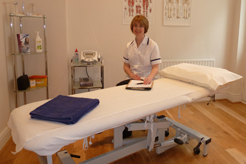 Amanda has been involved in patient care for over 10 years. She graduated from the London School of Osteopathy with a first class honours degree in 2005, and prior to that worked at two osteopathic clinics from 2002 treating patients in therapeutic and sports massage whilst completing her osteopathic training. As an osteopath, Amanda worked at Rochford Road Clinic with Anne Gibbons between 2005 and 2015, and at School House Clinic between 2005 and 2010. She opened her own clinic, Oaklea Osteopathy, in 2005, and it is from here that Amanda now works full time providing osteopathic care for patients.
Amanda's approach to osteopathy is to combine gentle treatment with effective patient management to achieve positive results for you in as quick a time frame as possible. You will receive an honest appraisal of your problem and whether osteopathy can provide the whole solution or part of it.
Prior to becoming an osteopath, Amanda worked as an HR Manager with Accenture for ten years. Working in a challenging professional environment made her aware of the importance of being customer focused and delivering results. Her decision to change career came after a long history of back pain which eventually resulted in spinal surgery. The excellent hospital care she received and ongoing support from a local osteopath inspired her to take on the challenge of five year's training to become an osteopath herself.
After qualifying as an osteopath, Amanda subsequently trained in western acupuncture (dry needling) and therapeutic ultrasound to provide her patients with further treatment options to maximise their recovery. Each year she attends continuing professional development (CPD) training to remain up to date with relevant healthcare developments. She has also trained in workplace ergonomic assessment to help patients deal with the postural challenges of office based working.
Whatever your age or circumstances, if you would like to discuss any aspects of osteopathy, and how Amanda can help you, please feel free to contact her directly on 01245 260320 / 07711582514 or email [email protected]
Testimonial
"I have had treatments when my back is very sore and have always been pleased with the results.
Amanda is very professional in a relaxed way and explains all treatments and on-going exercises.
I am very happy to be treated at Oaklea Osteopathy and to recommend Amanda."
M.Cootes, 45, Chelmsford