Foot and Ankle Pain Chelmsford, Essex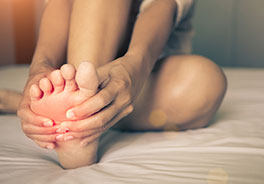 The Foot & Ankle
The foot and ankle are made up of many individual small bones bound together and surrounded by ligaments, tendons, muscles, joint capsules and nerves. Together they combine to provide flexibility, stability and strength. Pain can be experienced in the ankle, in the heel, in the toes, on top of the foot or underneath.
Possible Causes of Foot & Ankle Pain:
Sprained ankle
Achilles tendonitits
Shin splints
Plantar fasciitis
Bursitis
Tendonitis
Calf strain
Bunions
Moreton's neuroma
Metatarsal pain
Arthritis including osteoarthritis or rheumatoid arthritis
How can osteopathy help?
At Oaklea Osteopathy in Chelmsford, experienced osteopath Amanda Miles will assess you fully by taking a detailed case history and examining you to rule out other causes of pain that may refer to the foot and ankle. Treatment will depend on your diagnosis and other factors such as age, general health and fitness. Treatment is carefully chosen to reduce pain, improve mobility, improve function and improve strength.
Many foot and ankle problems respond well to gentle exercises to stretch and strengthen the area and if this is appropriate for you, Amanda will provide you with an individually tailored exercise programme.
Occasionally, there may be a need to refer you back to your GP if Amanda thinks you may benefit from further investigation or tests. Amanda will always discuss this with you first if she thinks this is necessary.
Useful Links
Foot Pain
NHS Foot Pain Information